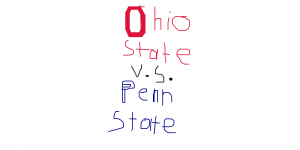 I will be doing a Ohio State game review for the rest of the Ohio State Buckeyes  Football and what play was the coolest and how i think we did.  So the best play I think we did is when number 86 in the 4th quarter scooped fumble and he got a touchdown! Which I thought he ran really fast. Over all I think we did great in the game and Penn State played well but I think are defense could use some more practice and on offense we need to throw to our players not the other team.
Sorry to people that are not in the U.S. if you want to know what I am talking about just go to any search engine and look up Ohio State Buckeyes.
I created this image on https://drawisland.com/ so go check out there site to draw amazing drawing for any type of project or you can make images for home screens on phones or computers.